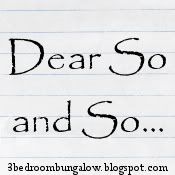 And again Friday has arrived and with it a new batch of "Things I Couldn't Say" or Dear So and So.....
Dear Auto Repair place,
Okay, you have had my car for two full weeks now. It should be done soon...right? RIGHT??!!
I understand about waiting for parts and the number of hours it takes to get it repaired properly. I really do. I know you will do a good job because you've done work for us before, so I trust you to do it right.
But the thing is.....I like my car. It suits me. I miss my car. I need my car!! I want it back! NOW!
(Or as soon as humanely possible, pretty please.)
Impatiently,
Mel
Dear Mother Nature,
You may recall that I have been quite vocal this year with my complaints about the weather. I don't mean to be a pest, but after a summer of unending days over 100F, no rain, and a whole summer of too hot, grumpy people, we'd like some "normal" please.
Two weeks ago temps were still in the high 90s. The rest of the country was pulling out their sweaters and jackets and enjoying a colorful Autumn. Did you overlook us? We had two or three days of 80s....that was very nice. But now we have a chilly wind blowing everything around (leaves, dust and dirt, and Halloween decorations!) The temperature this morning was 52F! Two weeks ago it was close to 100F, now its in the 50s??? Is our Fall really going to be only 3 days long?
After the summer we had, I think you could treat us a little better. We deserve it.
Uncomfortably,
Mel
Dearest M-t-G,
Congratulations Honey! You accomplished something that was very hard for you and it was a very BIG DEAL! I won't write specifics because I know you don't like to be the center of attention and it would embarrass you and besides, your mom wouldn't like it! But I just wanted to tell the world about my brave granddaughter who manages to surprise us frequently with her strengths! You are awesome, kiddo....especially when you follow your own timetable. Yep, you definitely march to the beat of your own drum! But you get where you need to be and you do it your way. Atta' girl!
Proudly,
Grammy
Dear Family,
I hate to be the bearer of bad news (it's really not "bad" exactly), but I'd just like to alert you that it is only 56 days until Christmas! (Does anyone else remember when we used to say "shopping days"? That was back when stores actually closed from time to time!)
Anyway, just a couple of things:
1) Let's remember to try NOT to spend the National Debt, okay?
2) Please share your updated sizes, especially M-t-G and the Big Guy! Otherwise there is significant danger that you will spend a great deal of time returning things that don't fit!
3) Update your wish lists on Amazon, otherwise you'll be stuck with stuff I pick out!
Ho Ho Ho,
Me
Dear Kindle,
Would you please
stop
doing whatever it is that you do that makes you lose your connection to WiFi and prevents me from accessing the Kindle Store. It cannot possibly be anything that I am doing that causes this glitch!! So, shape up!
Irritatedly,
Mel
Dear Marie Callendar's.
Thank you for FINALLY (after 3 years!) bringing back Beef Stroganoff to your menu. It is the best thing your restaurant makes! You didn't even change it in any way (always a danger with restaurants)! It is the epitome of comfort food. When it disappeared the last time, it made a lot of loyal fans very disgruntled. So I am fearful that it is only back for the "season" (i.e., winter) and then it will go away for another three years! That would make me a lot worse than "disgruntled", and it wouldn't be a pleasant sight. So just accept the fact that this should be one of your standard items and go mess with something else!
Peckishly,
Mel
Dear Blogland,
If you like Dear So and So, and want to give it a try, just pop over to Kat's Place at Three Bedroom Bungalow (
http://3bedroombungalow.blogspot.com/
), hook up with her Linky and add your own! It's a great way to blow off steam, and you can read lots of other letters even grumpier than mine!!
Your friend,
Mel