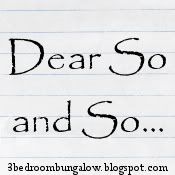 You all seemed to enjoy it last week, so here's another batch of letters I'd like to send....all about "Things I Couldn't Say!"
Dear Publishing Companies,
You must think readers are incredibly dumb! In the last year or so, we are seeing an enormous increase in the numbers of those "tweener" paperback books. You know what I mean, they are larger than a paperback, but smaller than a hardcover and they still have a flexible cover and....aha!....they cost more than a standard paperback, to the tune of $4-5 more!! Surprise!! They are not significantly lighter than a paperback, they don't necessarily have better paper, or larger print, or bonus features, or anything of value to the reader and purchaser of the book. It is just a means of increasing profits. So do you think we can't figure that out??? Sheeesh! We all know publishing is having hard times these days, but don't try to trick us into helping you out of your bleak financial situation! Especially when our financial situations aren't much better!
Not-as-dumb-as-you-think Mel
Dear Health Insurance Companies,
I have many, many concerns about healthcare in this country, not the least of which is the responsibility borne by insurance companies for the mess. Nevertheless, when someone goes to the Emergency Room, spends two hours there, to learn that the problem is NOT the horrible medical condition you dreaded, and when a bill over $3,000 is the result, it is REALLY, REALLY wonderful to discover that the "Patient's portion" is $-0-! Thank you, Aetna!
Mel
Dear Drivers,
As part of my on-going campaign to wake up the oblivious drivers of this country, I would like to point out, yet again, that when there is a very heavy rain coming down and there is road spray, big puddles, not much light, and you are driving a grey or dark colored car....you are very nearly invisible to other drivers unless you have TURNED ON YOUR HEADLIGHTS!! Maybe you don't care that I can't see you behind me, but I sure care!! If I have to stop quickly and don't know that you're there, it can lead to disaster. Honestly, you don't have the control you think you do when there is water all over the road!!
Totally Ticked-Off Mel
Dear Summer,
Just wanted to send you a short thank you! You have been very well-behaved this year. The majority of the past 3 months, the temperatures have been pretty bearable, there haven't been any weather extremes in the way of rain, wind, dryness. The moderate weather has lead to a banner year for flowers of all sorts! I've seen things bloom this year that I never saw before. Wildflowers were incredible, flowering trees were gorgeous, unusual blossoms were everywhere. Except for the fact that it was a banner year for bugs too, this was a perfect summer....at least for me. I'll be really sorry to see you go.
Your biggest fan, Mel