Dear Retailers,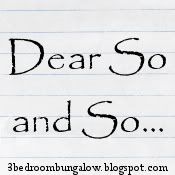 I am about to bite the bullet and head out this weekend to begin the dreaded Christmas Shopping. Would you please put out the kinds of things I would be tempted to buy? From the little bit of looking I have done so far, it appears as though all the good stuff is no longer on the shelves! It is only the 3rd of December, so I know you still have good stuff but have just hidden it away for your own family and friends. Well, you just hurry up and take it back out of hiding because I AM COMING and I don't want to see any junk!! I won't be responsible for the consequences, if I can't find good gifts to buy! You have been warned!
Assertively,
Mel
>>>>>>>>
Dear Difficult-to-Buy-For Family,
(This means YOU Big Guy and T.A.!)
Amazon.com had the inspired idea a few years ago to set up the capability to allow personal Wish Lists. Please use yours and at least give us a few hints, because if you don't I can pretty much guarantee that you won't end up getting anything you actually want for Christmas. 'Nuff said!
Clueless,
Mel
<<<<<<<
Note to Self:
Dear Self,
Follow your own advice, Lazybones!! Your wish list is at least 3 years old!! Get on it, already!
Seriously,
Yourself
>>>>>>>
Dear Santa,
Our not-so-little-anymore M-t-G, is 9 1/2 years old this year and is teetering on the edge of "Does she or does she not believe?!!" So don't say anything to blow it, kay? I just wanted to give you a heads up, in case she tugs on your beard, or pokes your belly or snorts when you "Ho Ho Ho!" She told me that she is going to write a letter to you again this year, but that could be just camouflage. You just never know with kids at this age.
Good Luck!
M-t-G's Grammy
p.s. By the way, what the heck do 9 1/2 year old, bright little girls want for Christmas anyway? Besides their own computer, I-phone or other trendy things I can't afford!!
>>>>>>>
Dear Patron Saint of Lost Things,
I'm sorry to bother you, but would you happen to know off-hand what might have happened to this month's Mortgage billing?? I know that it's due and I know I haven't paid it yet, but I can't find the bloomin' thing! I could really use a little help here. That big ol' chunk of money is just sitting there waiting to disappear into the mortgage pit, but no bill! I don't know if I have enough willpower to actually send off that chunk of change unless I have a bill in my hot little hand screaming, "PAY ME NOW OR WE WILL COME AND TAKE AWAY YOUR HOUSE!!" (I hate it when it does that!)
It's Christmas time, ya know. I could get a bunch of really nice presents if I could use THAT money, instead of just that puny little stack of dollar bills that is my "Christmas Money".
Uhhh, not to pressure you or anything but....could you hurry??
Leaning toward temptation,
Mel
<<<<<<<<
Dear Radio Stations,
Those of you that are playing nothing but Christmas music from now until exactly 3:57 p.m. on Christmas Day (which is when you have decided that Christmas is officially over), I thank you. It's a nice effort....however, would you mind dumping all those recordings that:
1) are bad remakes of old classic recordings
2) where the "singer" is vocally sliding up and down to hit every single note in the key before finally landing where they are supposed to be, sort of!
3) where the arrangement is so bizarre that it is impossible to even recognize old, familiar favorites!
On behalf of every person that loves beautiful Christmas Music, I beg you to only play:
1) Mormon Tabernacle Choir, Harry Simeone Chorale, and other choirs that know how to make choral music beautiful.
2) Andy Williams, Rosemary Clooney, Bing Crosby, Barbara Streisand, Perry Como, Frank Sinatra, Ella Fitzgerald, Mel Torme (Are ya' beginning to see where I'm going here???)
3) Anything by Josh Groban, or The Chipmunks.
Thank you and a Merry Musical Christmas!
(until 3:57 p.m. on 12/25)
Mel