I don't know quite why I decided to count up, but today I counted the blogs that I read. I was surprised to learn that I'm following 65 people! There is always "Another Story, Another Time, Another Place"! No wonder I have no time to write (or do much else). They are all interesting and amazing people who write about an interesting and amazing range of topics. I think I could be good friends with most of them IRL (in real life). By and large they are prolific posters, many of them write EVERY DAY! Some of them follow me in return too! I admire them all for different reasons. Some always make me laugh, others always make me think, still others can bring tears to my eyes, some of them even inspire me. They are all fascinating to read.
Most are listed on my sidebar which directly links back to their blog. A few of the newer ones haven't made it onto the sidebar yet, but they will. I truly recommend them all to you. They may not all appeal to everyone, but I'd be surprised if you didn't find at least one that calls to you!
Blogs about Mommydom, blogs about Houses, blogs about Home Decor/DIY projects, Fashion through thrifting, Funny things kids say and do, Writing and authors, or just plain ole LIFE?? Yep, I read a blog or 2 about all those things and more! I love them one and all.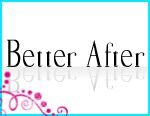 The one I discovered today is really great for those who like to repurpose old furniture and such. I don't actually do that myself but I love seeing what other people have done! If you like before and afters, you will LOVE this blog! Go visit!
http://betterafter.blogspot.com/
[Aside to Ratchlet: You've Got to visit this one, sweetie, trust me!]

There are a few that, for whatever reasons, seem to have stopped writing. After a long inactive span I do remove them from my lists, just to keep my lists from becoming gargantuan! But the ones still on the list are definitely keepers!
Go visit one or two, I bet you'll like them.....but be sure to do it when you have some free time, because one blog leads to another and before you know it, it is 4 in the afternoon and you haven't even had lunch yet!!
(Did I ever mention that I have an addictive personality? Evidently, that extends to blogging as well!)